It's almost Easter, and that means hot cross buns. Although they have been in shops since January (!) I have managed to resist until last week when the display at the front of Waitrose finally persuaded me. I like a traditional bun, spicy and with dried fruit. I'm afraid that modern varieties, flavoured with chocolate etc just don't cut it at Easter. Although they were very nice – split, toasted and buttered – I couldn't help looking at the ingredients list and being slightly appalled. I am sure they are all fine, but 'broad bean flour'? Really? This is not an ingredient that I have ever seen in a regular home baker recipe.
Then I was reading the Guardian online and happened across the lovely Kim-Joy in the recipe section.
(OK – I know this sounds totally middle class – Waitrose shopping/Guardian reading – I can't help it, and I'm not making any excuse/apology for it!).
Back to Kim-Joy. For those of you that are not based in the UK (or didn't watch GBBO in 2018) Kim-Joy was in the final of Bake Off, and her bakes are distinctive for their total cuteness and attention to detail.
In the mood for a spot of Easter baking already I came across Kim-Joy's hot cross bun recipe.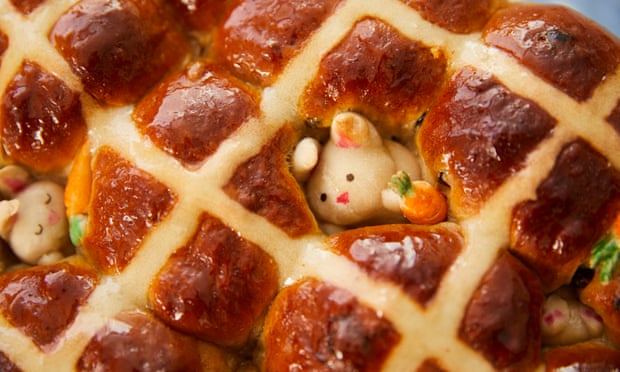 The bun recipe looked just right – spicy and fruity. So I made it. However – I tweaked it a bit. I used 200g spelt and 300g strong white flour (for a bit of wholemeal goodness) and I used whatever dried fruit I had in the cupboard (which didn't include any peel 😦 ). What I had was some raisins, sultanas, and half a small packet of mixed fruit which included cranberries and pineapple! They all looked a bit dry so I soaked them in orange juice.
I started making the dough after work and really didn't have time to do the whole thing before bedtime. So I mixed the dough until it was really elastic and stretchy and then put it in the fridge. The next day after work I retrieved it from the fridge, brought it to room temperature and carried on.
What is the origin of the hot cross bun? According to some a monk at St. Alban's Abbey made buns marked with a cross to distribute to poor people on Good Friday in 1361. Although we now make a rich yeasted dough with eggs and butter they would have been quite plain originally as those ingredients were not eaten during Lent. When I was a small child I remember only having hot cross buns on Good Friday (from the local bakery) as a special treat.
Back from work I kneaded in the fruit, shaped the buns, then left them to rise while I went for a run. Back home they were ready to go in the oven. Now, I am definitely not in Kim-Joy's league when it comes to decoration. But I thought I would have a go at the bunnies. Hmmm… please don't laugh too hard at the results!
My buns may not win prizes for cuteness or neatness but my goodness the house smells good, and they taste delicious. And the texture is light, even though they are almost half spelt flour. And not too sweet.
I would highly recommend this recipe, but next time I think I won't bother with the hiding bunnies! It makes 16 good sized buns – even I cannot manage that many buns. I have lovely neighbours and they got to be bun tasters.